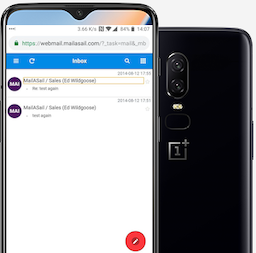 We are really pleased with the latest upgrades to our webmail facility and think you will be too!

What is webmail
Many customers may be used to configuring an app or a desktop program to read their emails. For example on your iphone you might configure your email details and then read your messages in "Mail". Or on a windows computer you might setup Outlook and read your emails there.
However, sometimes you are on a different computer or device and you just want to quickly get access to your emails without "configuring" stuff. However, this way of working is often suitable as a full time replacement for a desktop program - examples of this would be anyone who uses Google "Gmail" through their web browser!
MailASail's webmail service
MailASail's webmail has recently been upgraded and in our opinion is now a viable, full time replacement for your desktop mail client. In particular it now works well on mobile phones/tablets, so often there is no need to setup your "mail app" on your phone.
Features you might not have noticed
If you have read our other recent stories you will have seen that we recently made a huge upgrade to our "anti-spam" filters. This should be ensuring that the majority of you see zero unwanted messages, however, nothing is perfect, it's a computer algorithm and you can give us feedback by simply dragging messages in/out of the spam folder using any mail client (including webmail!). We are investigating adding a specific 'spam' button, but for now simply drag and drop messages in or out of the 'Junk' folder will apply the feedback to help train the spam classifier.
Additionally the webmail gives you an interface to alter your mail filter rules. This means you can apply filtering on the server to block (or delay) unwanted messages, implement "out of office" services and the like.
Try it today!
The new upgrade is easy to access from any device and super simple to use, so why not sign in now and give it a try?
Feedback is appreciated!